WELCOME!
This site is devoted to our Ozark County, Missouri ancestors who arrived in this county in the early 1830s. Some of the names that are included are Forrest/Forest, Lantz, Gilliland, Copeland, Herd, Briggs, Peace, Haskins, Hawkins, Hoodenpyle, Barnett, Turley, Ingram, Vanmeter, Noe and Coiner.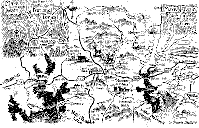 Silas Turnbo's Fireside Tales
Many of these stories include our ancestors. The following are some of the stories.



THE BIG POST OAK TREE COVERED WITH GRAPEVINES
By S. C. Turnbo

Among the stories of the early days of Ozark County, Mo., Is a brief account given by John Herd of the first settlement made at Isabella, Mo. Mr. Herd is a son of Marlin and Ruthy (Briggs) Herd and was born in Marion County, Tennessee, March 18 1834. He came to Arkadelphia, Ark., when he was quite young and after living there a short time he came to Ozark County, Mo., where he has spent the greater part of his life. He married Miss Malinda Forest, the youngest daughter of old Uncle Jimmie Forrest. He says that the ground where the small hamlet of Isabella now stands was first settled by Squire Hunter who built a cabin in 40 paces of the spring in the head of the hollow. One mile north of Isabella is where Noel Hutchison lived which was settled by Ben Bray. Mr. Herd said that the land where the village stands was once a glade or a small spot of prairie. A large post oak tree with part of the top broke off stood on this ground long before any settlement was made here and long afterward. This tree was covered with a fine cluster of wild grapevines which bore fine grapes of the summer variety almost every year. This tree when the grapes were ripe was a famed one among the hunters on account of so many wild turkeys stopping here to fill themselves on the grapes and the hunters would shoot them while they were in the tree. Squire Hunter built his hut near this tree but its nearness to Mr. Hunter's domicile did not prevent the turkeys from approaching the tree in grape time. "I well recollect," said Mr. Herd, "that before Hunter built his house here a dim pathway lead near this tree and when I was married I sold a fine black white-faced cow that was very fat for a gold piece and I give the money to Henry Bratton who sold goods where the Dick Martin spring Is for cooking vessels and other things for I and wife to keep house with. I recollect the day I went to Mr. Bratton's to make my purchase of the things mentioned I passed by this tree and saw a large flock of wild turkeys there filling up on grapes, five of which was sitting in the top of the tree."


Since writing the above Mrs. Malinda Herd, wife of John Herd, died January 31, 1907, and was buried in the cemetery at Isabella.




THEY SLEPT IN THE BED TICK
By S. C. Turnbo

Some of the amusing accounts relating to the children of an old settler is from the neighbors of old Jimmie Forest who lived on Little North Fork near the mouth of Barren Fork. Mrs. Mary L. Holt wife of Uncle Billy Holt told the following. One spring season in the early forties I made a lot of soap at Mr. Forests. His wife was known as Mom Forest. Her real name was True Love. The children were very mischevious and some of their exploits were very amusing. One night while I was there Mrs. Forest told Bob, Dave and Steadman to go upstairs and sleep in the bed. Of course their mother meant for them to sleep on the bed tick and not in it, and for once they decided to obey her. The bed tick was filled with new feathers but little did they care for this for on getting upstairs they took the pen knives out of their pockets and proceeded to rip open the bed tick which was a new home made one and both of them crawled in it and turning around so their heads would stick out they went to sleep. On the following morning the boys seemed to be very slow in getting up and at late breakfast time the boys had not yet showed themselves and Mrs. True Love Forest become impatient and she sent her daughter Sally Forest upstairs to wake the boys up. They were already awake but they pretended that they were in a deep slumber and snored loud and lay perfectly still and seemingly as innocent as young lambs. But appearances indicated that the youngsters were not as sinless as they appeared to be for their sister found them tacked snugly on the inside of the bed tick and feathers were scattered all over the floor. Seeing how matters stood with her brothers Sally rushed back downstairs to report to her mother. Mrs. Forest went out into the yard and picked up a small club and started upstairs to raise war with the boys. They heard her coming and knew it was time for them to get out and they crawled out of the bed tick much faster than they had went in and just as their mothers head appeared above the level of the floor of the loft, they both darted downstairs to make their escape from the wrath of their mother and in an attempt to pass the woman they struck against her and knocked her down stairs and out of doors they both went like a message on a telegraph wire and Into the woods to get rid of a severe drubbing. A confusion and a cloud of feathers and a bruised woman was the result when the boys made their exit out of the bed and house. It was astonishing to see the feathers flying as the two youngsters rushed downstairs. The boys lay out for a week but would come in late at night and get something to eat but finally they grew tame and ventured back to stay when their mother had got in a better humor.


Silas Turnbo's Fireside Tales Online
The Civil War

The Civil War devastated Ozark County. Hardly a building remained by the end of the war. In addition to the soldiers there were also roaving bands of bushwhackers who preyed upon the residents stealing what little they had. At the start of the war Ozark County was surrounded by Condederate military posts. The county's location on the Arkansas border caused it to be targeted by guerrilla warfare and lawless violence. Bushwhackers, as the locals called them, found easy refuge in the area. By the end of the war it is believed over 75% of the prewar population had evacuated the area. Some of them went to Maries County and others to the federal encampment at Rolla in Phelps County for safety. In August 1861, the Confederates took control of Springfield and ordered all families with federal connections to leave Howell county and surrounding counties, which included Ozark. By February of 1862 the Confederates were driven out of Springfield. Ozark County was now left between Fulton County, Arkansas which had become a Confederate stronghold on the south and Douglas County, Missouri, still held by the Union, on the north. In November of 1862 300-400 Confederates were in Gainesville robbing the Union families.

The following are some of our ancestors or related lines who served in the war.
Union soldiers:
Barnett, Levi
Forest, Samuel J.
Forest, David D.
Forest, Eli S.
Forest, Robert M.
Forest, William
Gilliland, Robert Q.
Gilliland, James M.
Gilliland, John H.
Gilliland, R.R.
Haskins, F.B.
Haskins, Josiah
Haskins, J.R.
Haskins, Lorenzo
Haskins, Samuel Glass
Herd, Jesse
Herd, John B. Sr.
Vanmeter, Henry B.

Confederate
Snow, Philander
Hoodenpyle, John Peter
Other links!
For additional information on James Forrest, land records and some of these surnames click on the link below.
http://forrestgenealogy.20m.com/index.html
Send an email